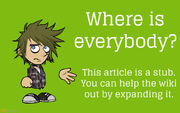 Baby Wars 
is the 8th episode of Johnny Blan. It was published on 10/18/12. In this episode, the family tries to give
Karen
a bath.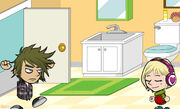 Characters
Edit
Karen
Johnny
Noxxow
Mr. Blan
Mrs. Blan
Grant
Yummy
Mr. Skyheart
Gertrude Alisals
In the beginning, Johnny and his class are getting music lessons from Mr. Skyheart. Afterwards, Johnny is called on his cellphone. His mom says that Karen needs a bath and is so stinky, that she knocked out Yummy. Johnny rushes home. Everyone in his family is hiding behind the couch. Then, everyone tries various methods of trying to get Karen into the tub, from hiding donuts in the bathroom to having a waterfight, but all fail. When Johnny finally gets Karen in the tub, she says that she is so dirty, it'll take a flood to clean her. Johnny is about to give up, he sees a news report for an upcoming flood. Unfortunately he can't swim! The flood comes and Johnny passes out. When he wakes up, he finds out that the flood made Karen learn to like baths.
Despite making a very short appearance, this is the first episode with Mr. Skyheart.
Community content is available under
CC-BY-SA
unless otherwise noted.