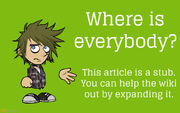 Caveman Antics 
(or
Cavemantics
) is the 31st episode of Johnny Blan. It was published on 3/9/13. In this episode,
Noxxow
thaws out a real-life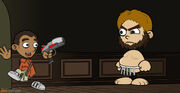 caveman.
Characters
Edit
Johnny
Noxxow
Barb
Unnamed News Reporter
Kim
The caveman
The Noxxowbot
The episode starts with Johnny watching K in a Day with Barb. There is a brief newsflash a with someone saying that archeologists have discovered a frozen caveman and he is now on display at the Moonville Museum. Then it cuts back to K in a Day. Noxxow immediately heads over to the museum, repeatedly crashing along the way since he is a terrible driver. Soon he gets to the museum. He finds out where the caveman is and thaws him out with one of his rayguns. But then, he remembers that there was this one time where he went back in time and tried to destroy one of the cavepeople's villages. Because of this, the caveman runs away. Noxxow then realizes the mistake he's made and tries to fix it. He gets help from Johnny, Barb, and Kim. Kim's job is to open up a portal leading back to the caveman's time and the others try to lour him into it. They are successful.
Meanwhile, the Noxxowbot is floating around in space. It sees the Earth, and floats down to it.
This is the third appearance of a time machine. They also appeared in Time for Awesomeness and Group in Time.
In this episode, the caveman only has two speaking lines.
If you weren't stupid, you'd realize that "Cavemantics" is a combination of "Caveman" and "Antics."
Running Gag: Want some soda? I shook it!
Community content is available under
CC-BY-SA
unless otherwise noted.