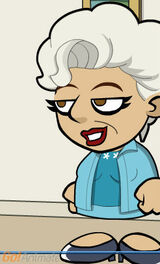 Grandma Angel

Some attributes

First
Appearance: Gray hair, blue shirt, dark shoes
Second
Age: 84
Third
Interests: Sewing, watching TV, being with family

Other attributes

Fourth
Gender: Female
Fifth
Friends: Johnny, Noxxow, Mrs. Blan, Mr. Blan, Karen, Yummy
Sixth
Enemies: ???
Grandma Angel is Johnny's grandmother. She often tries to be hip, but fails due to the fact that she is so old. She embarasses Johnny frequently, especially when she calls him a "sweetyboo."
Community content is available under
CC-BY-SA
unless otherwise noted.