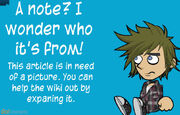 Peanilla Chocaramel 
(pea-nill-uh ko-carrah-mull) is the 17th episode of Johnny Blan. It was published on 11/16/12. In this episode, Johnny tries to get some of his favorite ice cream flavor.
Characters
Edit
Johnny
Noxxow
Mr. Blan
Mrs. Blan
Karen
Snackbar owner
Charles
Store owners
Various others
The Blans are at CogenCracker Amusement Park, when Johnny starts feeling hungry. He goes to the snackbar, eager to get some Peanilla Chocaramel (his favorite ice cream flavor), only to find out that they are all out. Johnny is very desperate to get some ice cream, though. The Blans then decide to drive to Mike's Goods to get some there. Unfortunately, there is a traffic jam. Johnny then takes the wheel and sends the car flying throughout Moonville. Eventually, the car crashes into Mike's Goods and runs over one of the cashiers. But Johnny finds out that they are out of ice cream there as well.
The ending message "that's all, folks!" is usually said at the end of Looney Tunes.
According to Johnny, Peanilla Chocaramel is a combination of pina cholada, vanilla, chocolate, and caramel, and usually has peanuts.
It is unknown if Johnny ever got his ice cream.
The snack bar was originally called the "Nut Bar."
Community content is available under
CC-BY-SA
unless otherwise noted.