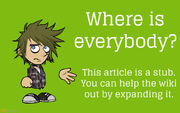 This is what happened throughout Johnny Blna history.
April: The series had been created. Before the series was taken onto GoAnimate, BeatBro and his mom wrote Johnny Blan-related books.

Some of his books were called Johnny and the Cookie Mystery, Johnny's Bus Ride, A Sticky Situation, and Johnny Spies on Mrs. Blan.
Some more books were released. Some were called Blan Train Trip, That's Life, Junk Food Johnny, Right Rock, and Hotel Johnny.
More books were released. Some of them were called Johnny Blan in Boogalooga Resort, El Johnnio, Movie Johnny, and Blan Train Trip 2.
January: A book called Metal Johnny is released.
March: A book called Nice Noxxow is released.
July 3rd: The Johnny Blan Funbook is released.
July 4th: American Independence Day 2012.
July 2lst: A book called Enter and Die is released.
September 2nd: A book called Road Trippin' is released.
September 16th: An early website for Johnny Blan on Wix.com is created.
September 21st: A book called Blan Dance-Off is released.
September 30th: A book called Where's Johnny Blan's Magic Rock? is released.
October 6th: BeatBro joins GoAnimate.
October 7th: The GoAnimate series of Johnny Blan is created.
October 8th: Principal's Edge is released.
October 9th: All Alone (No One But Yourself) is released.
October 10th: Time for Awesomeness is released.
October 11th: Karao-Key to Success is released.
October 12th: Bound for Busia is released.
October 13th: Mind my Machine is released.
October 14th: A test to make Johnny Blan-related games is run, but it fails.
October 18th: Baby Wars is released.
October 20th: Playin' for the Principal is released.

On the same day, the book Trick or Trick is released.

October 23rd: Hallo-Weenie is released.
October 26th: Noxxowberg is released.
October 30th: Lock-Down! is released.
October 31st: Halloween 2012.
November 2nd: A Johnny Blan Christmas is released.
November 5th: The first episode of season 2, Noxxow Unseen, is released.
November 6th: U.S Presidential Election 2012.

On the same day, a remake of "Mind my Machine" is made.

November 8th: @ the Office is released.
November 9th: Courtroom is released.
November 11th: Bully Boy is released.
November 16th: Peanilla Chocaramel is released.
November 18th: The Killers 2 is released.
November 19th: Life in the T.V is released.
November 22nd: Thanksgiving 2012.
November 23rd: The Hand (the original episode) is released.
November 25th: Secret Admirer is released.
November 27th: Group in Time is started.
December 1st: Group in Time is finished.
December 8th: The Cast of Johnny Blan is released.

On the same day, the book Falling Fool and Anti-Boy is released.

December 23rd: Out of Power is released.
December 25th: Christmas 2012.
December 28th: This was the original airdate for Livin' with Randy, but it didn't end up getting released until 2013.
December 31st: New Years Eve 2012.
Community content is available under
CC-BY-SA
unless otherwise noted.